News of the President of SPHM, Professor Carlota Saldanha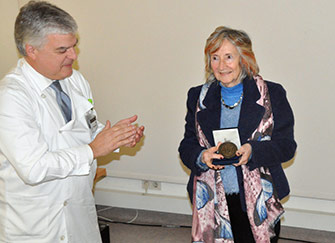 In 19th of March of this year of 2018, the Professor Carlota Saldanha, recently jubilated, receive a tribute during a ceremony where the Dean of the Faculty of Medicine, University of Lisbon (FMUL) Professor Fausto Pinto granted, a medal school, by her example of dedication, loyalty, spirit of sacrifice and commitment that demonstrated over the many years she worked in FMUL. The Dean also thanks Professor Miguel Castanho Head of the Institute of Biochemistry for the initiative of this tribute and celebration. In this ceremony Professor José Fernandes e Fernandes dedicate a lecture to the honoree entitled "The Convergence of Macrocirculation with the Microcirculation".
The tribute to Professor Carlota Saldanha was preceded by the IMM Monday Lecture " titled Mechanistic Insight into Vascular Changes in the Pathogenesis of Diabetic Retinopathy" presented by Professor Sayon Roy from Boston University School of Medicine that dedicated his lecture to the honoree. At the end Professor Carlota Saldanha, was very appreciative and thanked all the words received, all the opportunities she had, in teaching, in research and in all working groups coordinated by herself. She tanked all friends in the audience, emphasizing that I had won a new friend, the Professor Miguel Castanho, and last but not lastly her sons. She told "this tribute is also a tribute to FMUL".