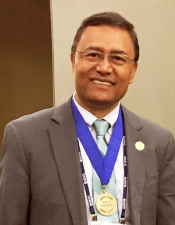 Professor Sayon Roy, a member of the European Society of Hemorheology and Microcirculation, receives ARVO award by the Association for Research in Vision and Ophthalmology at the Annual Meeting held in Baltimore, MD, USA in May 2017.
The Gold Medal is awarded in conjunction with the title of ARVO Gold Fellow in recognition of Professor Roy's accomplishments, leadership, and outstanding service to the Eye and Vision Community.
The International Scientific Committee of the Portuguese Society of Hemorheology and Microcirculation, congratulates Professor Roy for his distinguished research achievements and extraordinary service in prevention and cure of disorders of the visual system worldwide.