PROFESSOR SAYON ROY AWARDED GOLD MEDAL BY THE ASSOCIATION FOR RESEARCH IN VISION AND OPHTHALMOLOGY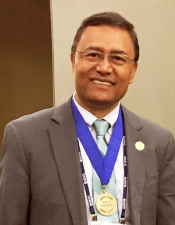 Professor Sayon Roy from Boston University School of Medicine presented a IMM Monday Lecture titled Mechanistic Insight into Vascular Changes in the Pathogenesis of Diabetic Retinopathy on 19th March 2018. He was hosted by the Institute of Molecular Medicine, Faculty of Medicine, University of Lisbon and Professor Roy was introduced to the audience by the Head of the Department of Biochemistry, Professor Miguel Castanho.
Professor Roy dedicated the lecture in honor of Professor Carlota Saldanha who has been a distinguished member of IMM since its foundation and in acknowledgement of her contribution to science and education for decades. A tribute in honor of her devotion to FMUL was celebrated following Professor Roy's lecture.